In this article, I am going to show you some simple tips that will guarantee to help you break 100 in golf.
First, it's important to understand what the concept of breaking 100 means. A normal golf course will be roughly par 72. That means you are allowed to shoot 27 over par, 9 double bogeys and 9 bogeys. So 72 shots + 27 shots = 99 shots.
As long as you play within yourself and don't make any massive mistakes, you should be on track to breaking 100.
Now and again you may pick up some pars and even a birdie. As long as you keep the big numbers off the scorecard, that is a way of guaranteeing shooting a lower score.
With that out of the way, let's look at a few tips that will help you achieve this.
Here are 3 ways to break 100:
Save shots around the green
Manage your expectations
Play par 3's better
1. Save Shots Around The Green
Sometimes taking the safer shot rather than the 'sexy shot' is the key to help you shoot a lower score.
For example if your ball is close to the green or on the fringe and you want to get it on the putting surface then sometimes its best to go for the safe option and use a pitching wedge.
Better players such as those on tour would probably go for a more lofted club with 60 degrees that will flick the ball up in the sky, landing it in front of the green and letting it roll towards the flag.
But if you are an average player, this could be too ambitous as you could go wrong and thin it through the green or you could leave it a yard in front of you.
Your main objective is to get the ball on the green or putting surface so that you can give yourself decent chances for a putt.
Once you get the golf ball safely on the green you are walking off with a bogey or double bogey.
Tips for using the pitching wedge:
The pitching wedge will give you some loft and only requires a short swing to get the golf ball onto the green.
Grip down on the golf club for more more control
Keep the stance narrow
Use a putting stroke (don't use wrist too much)
Swing arms and club as one (avoid flicking the ball up in the air)
Skim the grass
Target the front of green so that when the ball lands, it rolls to the flag.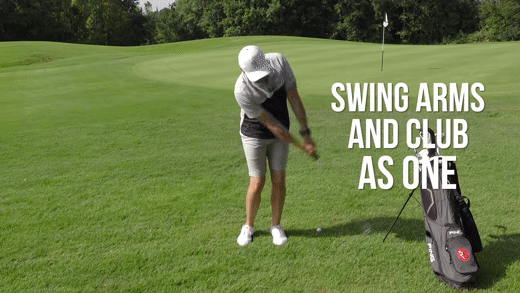 2. Manage Your Expectations
One of the ways in breaking 100 is to manage your expectations. Sometimes three putts are okay in certain situations, for example if you are on the green but are miles away from the flagstick.
In a 18 hole round of golf, you should try to track your putts through the round, ideally 36 putts or lower. That would be a good target to break a 100.
A lot of golfers make the mistake of not checking whether the putt is uphill and downhill and so they misjudge the speed of the golf ball.
Once you've figured out the lie of the green, make a couple of practice strokes while looking at the hole. Gauge the correct speed in order to get the ball close to the hole, and then whack the ball according to whether it's on a uphill or downhill lie.
3. Play Par 3's Better
Par 3 is a wonderful opportunity to get the golf ball close to the green or even on the green. It's also a great opportunity to give yourself a perfect lie. You might make a par or a bogey, but what we don't want to do is to make a big number on a par 3.
When you get to the teeing ground, take a moment to decide where the ball should finish. Look for the troubles and obstacles and try to avoid them such as bunkers. All in all, choose the right club for distance and stay away from trouble.
Checklist for playing par 3's better:
Tee up the ball just a little bit above the grass.
Picture the shot
Aim for safety
If you are on a hardest hole on the golf course, say the 3rd hole and on the tee box it says (par 4, 400 yards), then you need to changee your mindset a bit.
You need to turn the par 4 into a par 6. In other words, play a par 4 as a par 6. If you can make a double bogey on such a hard golf course, you are well on track to having a good result.
Choose The Right Club
Choose the club that you can hit full shots with and plot your way down the hole. Typically you want to go for a driver, but on difficult golf courses you may actually get into trouble.
For example, if there are trees and hazards around. The last thing you want to do is to duff your tee shot as that can really cost you.
If you've got par 6 in mind, you can afford to hit pretty much every full shot. So if you've hit a full shot of 130 yards, you're almost getting on the green in 3 shots. From then, all you'll need is a little chip onto the green and two putts to make your 6.
Choose a club that you are comfortable with, whether it be a 7-iron or a 8-iron etc and plot your way down the hole. You may not hit the fairway on the first shot but that's okay.
Plan your second shot and so on until you are on the green. Once you're on the green, two putts should do it.
Final Thoughts
All in all, you don't have to play pretty golf  or perfect golf to break 100. If you are keeping it safe and plotting one shot after the other, you'll definitely break 100.
Just avoid those big numbers on your score and you'll be in a good position. Now get out there and enjoy breaking 100!