The longer you play golf, the more courses you visit. Although every tennis court, basketball court, or football field is pretty much the same, every golf course is different from every other. Some are along the ocean, and others are in the desert.
Many have trees that frame your every shot. Others have no trees and a horizon that seems to stretch on forever. Limitless features attach themselves to each golf course and that's what makes each one a separate journey.
Golf architects such as Robert Trent Jones, Pete Dye, Jack Nicklaus, Tom Fazio, and Tom Doak have put their fingerprints on the map of American golf.
This article gives you a peek at some of the world's greatest courses as seen by pro golfer and prominent golf commentator Gary McCord, as well as some courses that will put your short game to the test.
Top 10 Best Golf Courses In The World
You see a wide variety of golf courses in your golfing life. These ten courses are my favorites. I based my choices for this list on the courses' challenge and beauty.  Four of these courses are private, but six are open to everyone who can pay their (steep) green fees: Pebble Beach, Royal County Down, Pinehurst No. 2, Pacific Dunes, Cape Kidnappers, and the Straits course at Whistling Straits.
Here are the top 10 best golf courses in the world:
Pebble Beach (Monterey, California)
Cypress Point (Monterey, California)
Pine Valley (Clementon, New Jersey)
Royal County Down (Newcastle, Northern Ireland)
Pinehurst No. 2 (Pinehurst, North Carolina)
Royal Melbourne (Melbourne, Australia)
Pacific Dunes (Bandon, Oregon)
Shinnecock Hills (Southampton, New York)
Cape Kidnappers (Hawke's Bay, New Zealand)
Whistling Straits — Straits Course (Kohler, Wisconsin)
1. Pebble Beach (Monterey, California)
Pebble Beach is an extraordinary place to do anything. Golf has made it popular, but the land has made it legendary. Robert Louis Stevenson called this stretch of shoreline "the greatest meeting of land and sea in the world." Pebble Beach is blessed with two of my favorite courses in the world: Pebble Beach and Cypress Point.
I've been playing Pebble Beach Golf Links since I was 15 years old. We used to play the California state amateur on these storied links. We'd round up ten guys and rent a motel room together.
We based the sleeping arrangements on how well we'd played that day: Low round got his pick of the two beds. High round got the other bed. We figured he needed some sleep with all the swinging he did that day.
Everybody else grabbed some floor. Those were the fun days, when golf was a twinkle in your eye, and innocence made the game seem easy.
2. Cypress Point (Monterey, California)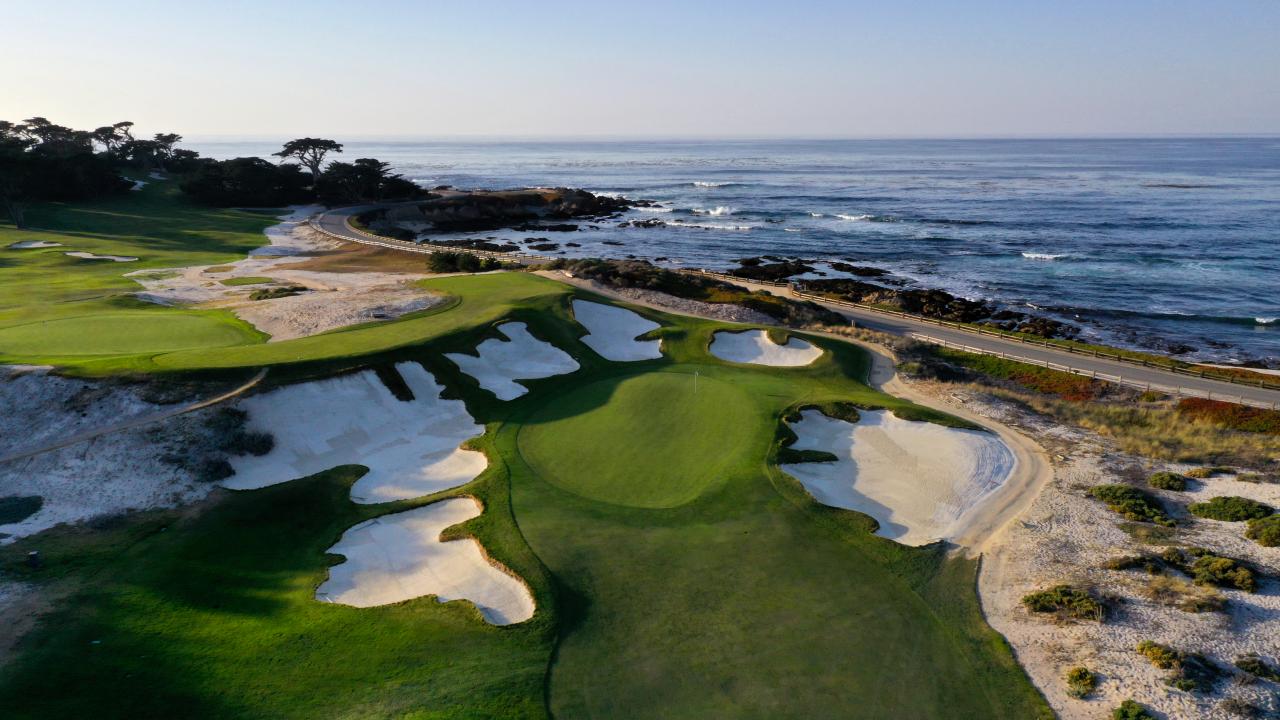 Cypress Point is a course of such beauty and solitude, you'd think it had holy qualities. From the quaint pro shop to the confining locker room and dusty rooms that perch atop the clubhouse, Cypress Point is a memory-maker.
The course winds from the pines into the sand dunes. Deer caper everywhere, often dodging errant tee shots. You can see the turbulent Pacific on a few holes going out and then again on most of the back nine, including the famous 16th, a gorgeous and scary par-3 that must be seen to be believed.
3. Pine Valley (Clementon, New Jersey)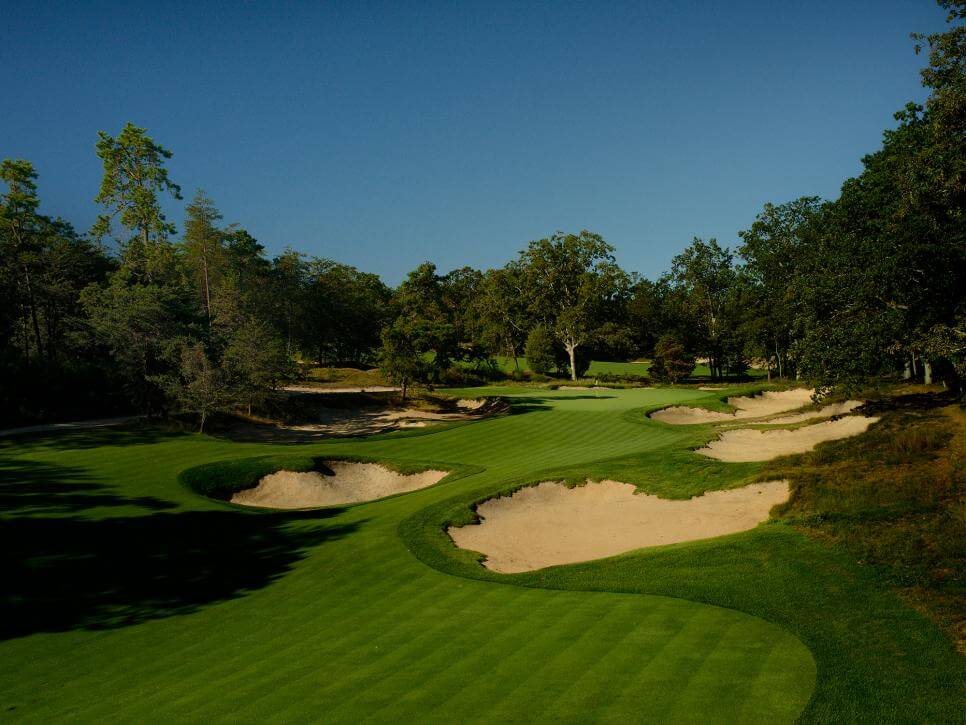 Pine Valley is the greatest course without an ocean view. If you have a week to hang with your friends and play golf, Pine Valley is the place. The grounds are spectacular.
Cottages house overnight guests, and a great dining room is full of golf memorabilia. The walls are saturated with tall tales of Pine Valley's golf history. Best of all, most of the tall tales are true. The course is one of the great designs in the world.
Builder George Crump bought this stretch of New Jersey land in 1912 and got input on the course design from great architects including C. B. Macdonald, Harry Colt, Alister MacKenzie, Donald Ross, and A. W. Tillinghast.
You measure a golf course by how many holes you can remember after playing one round on it, and this course is instantly etched in your mind, every hole, every tree, and every bunker.
I'm in total fascination when I walk through Pine Valley's corridor of perfectly maintained grass. This course is a place that breathes with the true spirit of golf.
4. Royal County Down (Newcastle, Northern Ireland)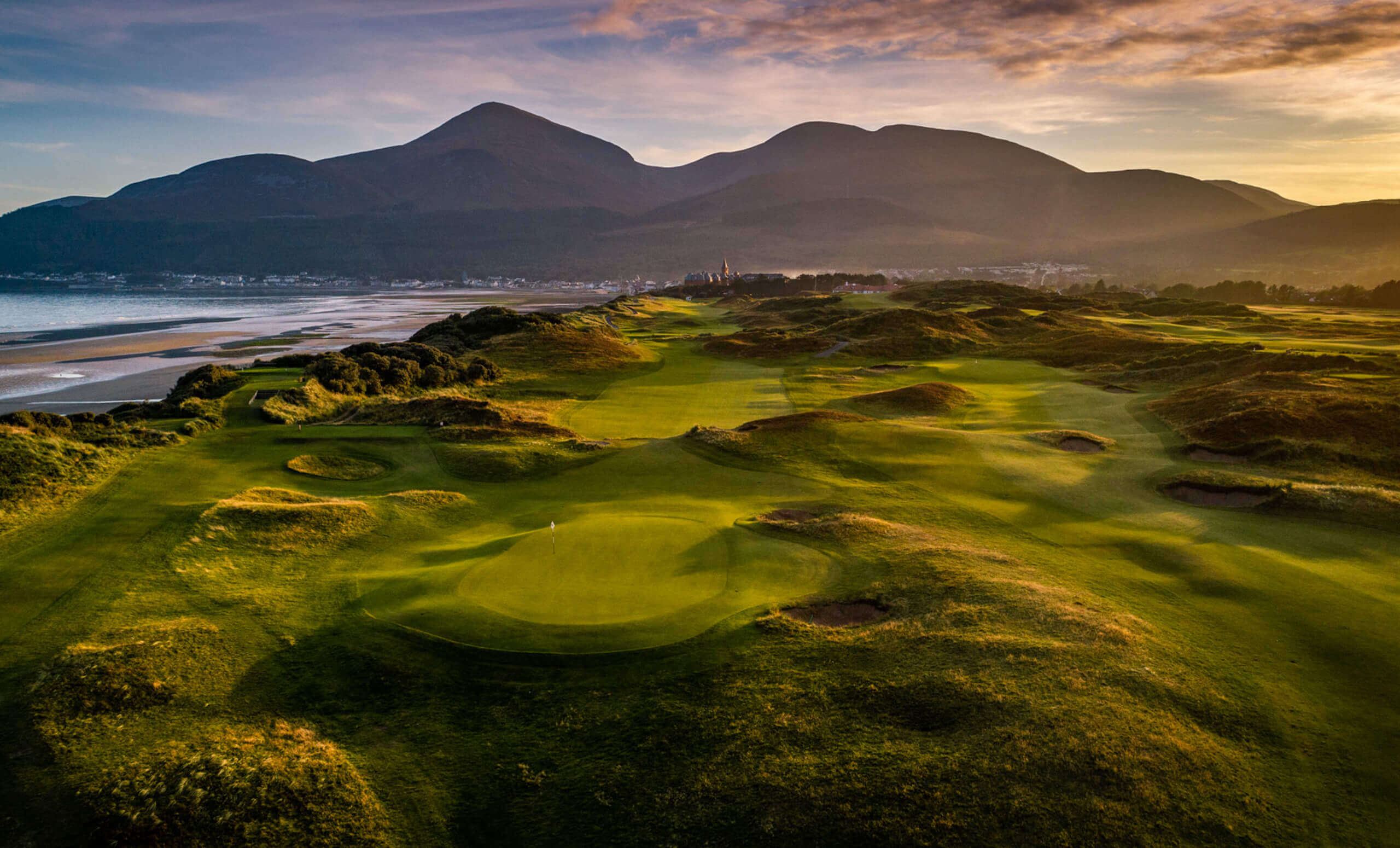 In recent years, more and more golfers making pilgrimages to the game's ancestral home in Scotland have detoured to Ireland, where some of the best links in the world are starting to get the attention they deserve. First and foremost among these is Royal County Down.
It's rugged, tricky (with blind shots all over the place), and altogether magnificent. Originally laid out by Old Tom Morris in the 1880s and redesigned by immortals including Harry Vardon and Harry Colt, this place is one of the most beautiful, memorable courses on earth.
No one who plays there ever forgets his or her day at County Down.
5. Pinehurst No. 2 (Pinehurst, North Carolina)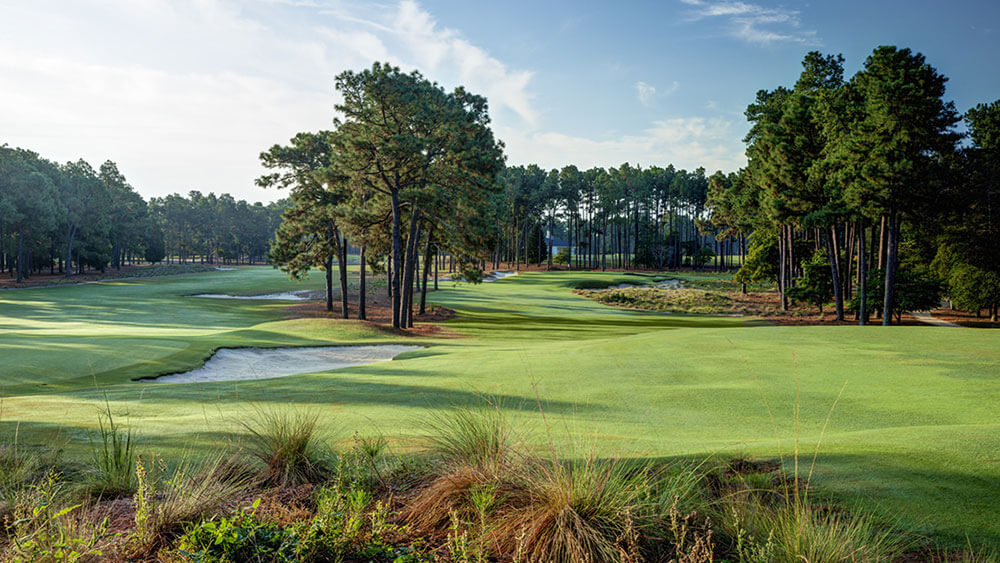 Pinehurst No. 2 is a masterpiece of design. Perhaps the most famous course designed by the great Donald Ross, it hosted the U.S. Open in 1999 and 2005. Hidden in the pines of Pinehurst, the course combines every facet of the game and boasts some of the best- designed greens in the world.
This entire complex at Pinehurst takes you back half a century with its rustic, Southern motif. Golf courses are everywhere. There are eight at the Pinehurst Resort and many others nearby, and golf is the central theme of the town
We used to play a tour event at Pinehurst No. 2 every year, and we'd get into a golf frenzy weeks before our arrival. Pinehurst No. 2 is second to none in the Southeast, a challenge to be revered and enjoyed. And in 2014, the course gains a distinction no other venue has ever boasted:
It plays host to the U.S. Open, followed a week later by the U.S. Women's Open!
6. Royal Melbourne (Melbourne, Australia)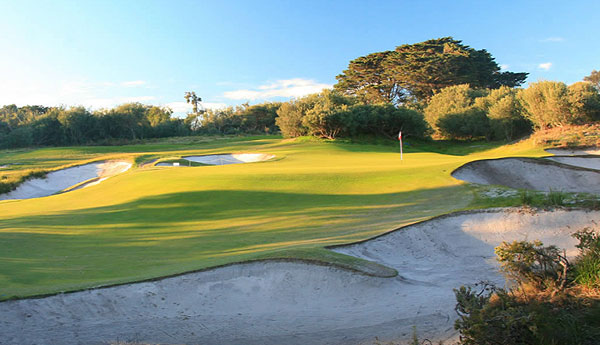 My information about Royal Melbourne comes from the Aussies I know on tour. Greg Norman and Steve Elkington rave about the greens, which are said to be among the fastest in the world.
The tournament course dates back to 1891, when the club hired Alister MacKenzie to come down from Scotland to oversee the design. The modern course is made up of 18 holes out of the 36 it has on site. I walked Royal Melbourne during the 2002 Presidents Cup and found that the Aussies were right:
The course is gorgeous, with large eucalyptus trees standing sentinel over the scene.
7. Pacific Dunes (Bandon, Oregon)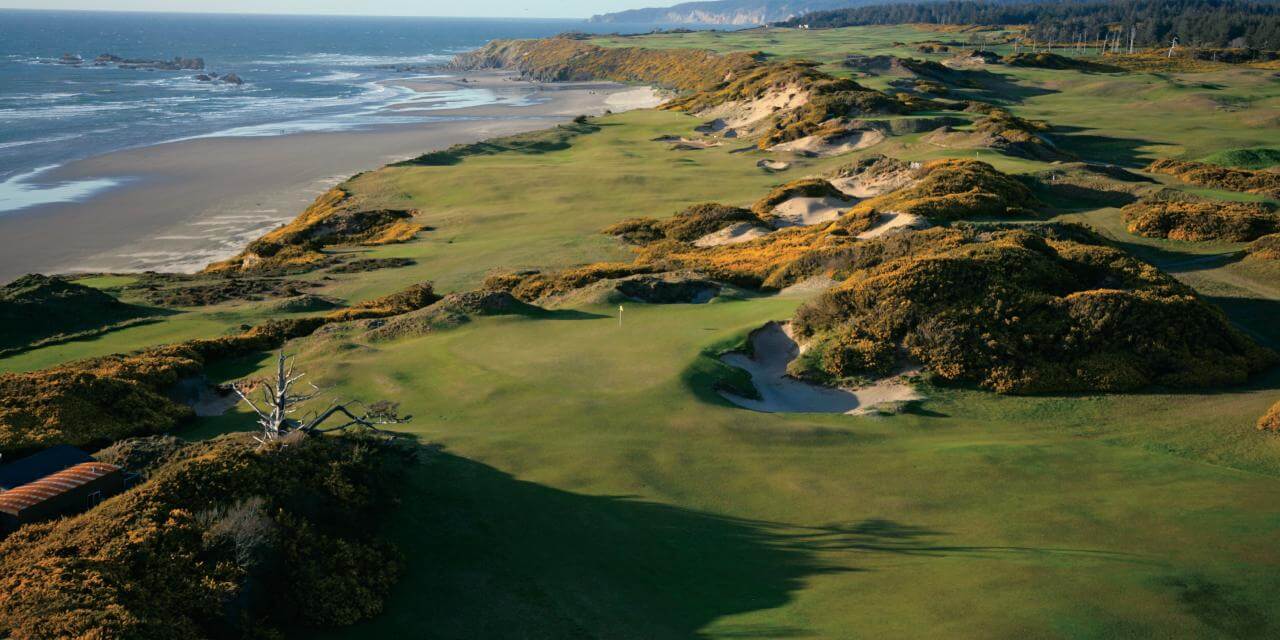 In 1999, an exciting new golf course opened on a remote stretch of Oregon coastline. The architect was David McLay Kidd, a Scotsman who put a remarkable, seemingly all-natural layout on a bluff above the Pacific.
In 2001, Pacific Dunes, a new course designed by Tom Doak, earned rave reviews, and 2005 brought a third natural beauty, Bandon Trails, designed by Ben Crenshaw and Bill Coore.
A fourth course, called Old Macdonald in honor of pioneering player and architect C.B. Macdonald, opened in 2010.
Mentioning them here is my way of applauding all four courses. Still, if I had to choose just one of these jewels for my last round ever, I'd tee it up at Doaks's minimalist, magnificent Pacific Dunes.
8. Shinnecock Hills (Southampton, New York)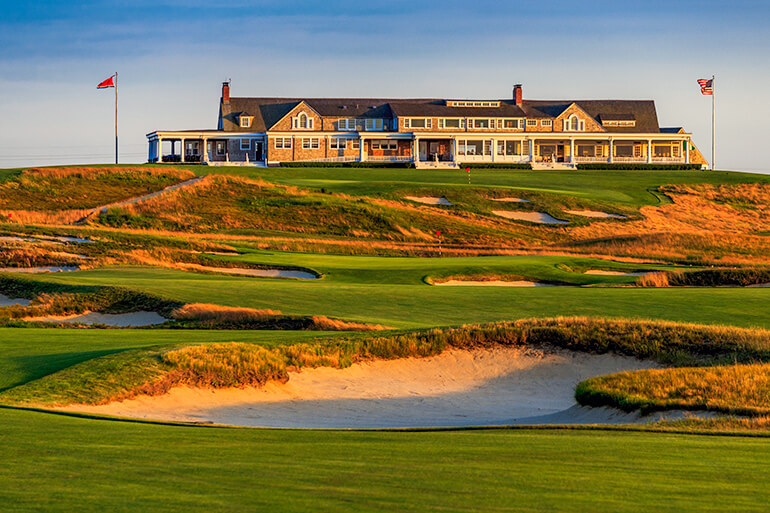 Eighty years after its founding, Shinnecock is still America's premier Scottish-style links course. At this course, you play the game as it was designed to be played, along the ground when the wind blows.
The world's best players saw how tough that could be during the 2004 U.S. Open at Shinnecock. From the porch of the nation's oldest clubhouse all the way out to the Atlantic Ocean, Shinnecock Hills is an American-bred beauty. Wind and golf course are meshed into your being as you stroll through this green treasure.
9. Cape Kidnappers (Hawke's Bay, New Zealand)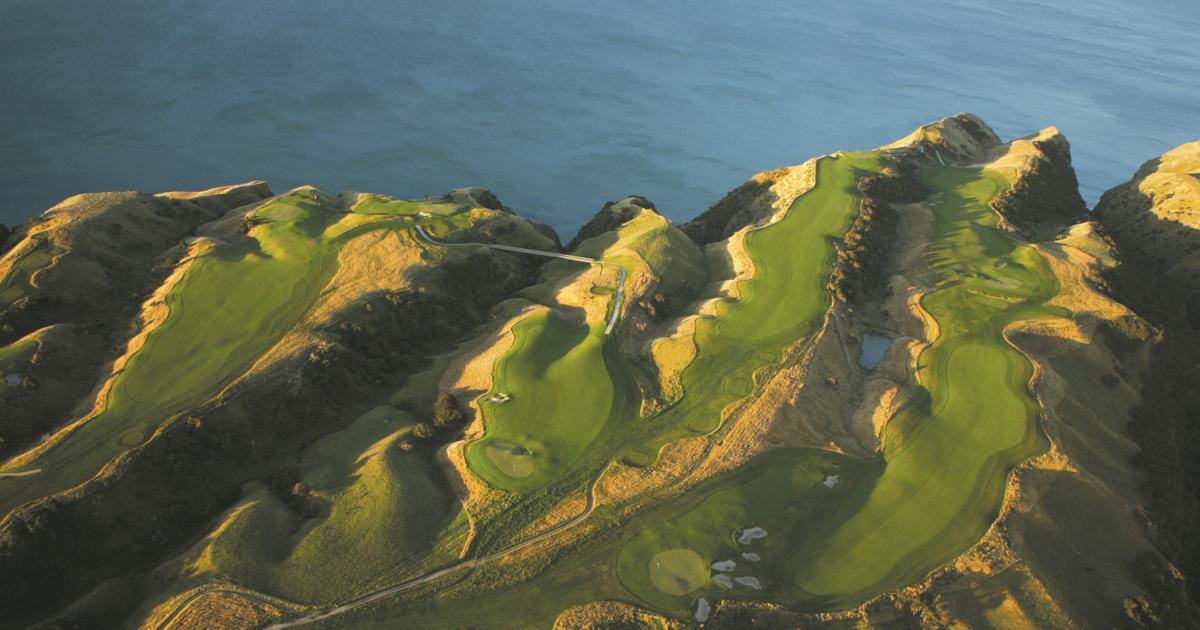 Remote? Hey, it's only 1,000 miles from Tasmania! Here's another Tom Doak course arrayed on a spectacular site: a stretch of New Zealand's North Island, where fingers of land reach toward the South Pacific atop cliffs that plunge 500 feet to the surf.
One of the most scenic venues any sport has ever seen, Cape Kidnappers is eye candy to golf photographers and a once-in-a- lifetime treat for golfers of any hemisphere.
10. Whistling Straits — Straits Course (Kohler, Wisconsin)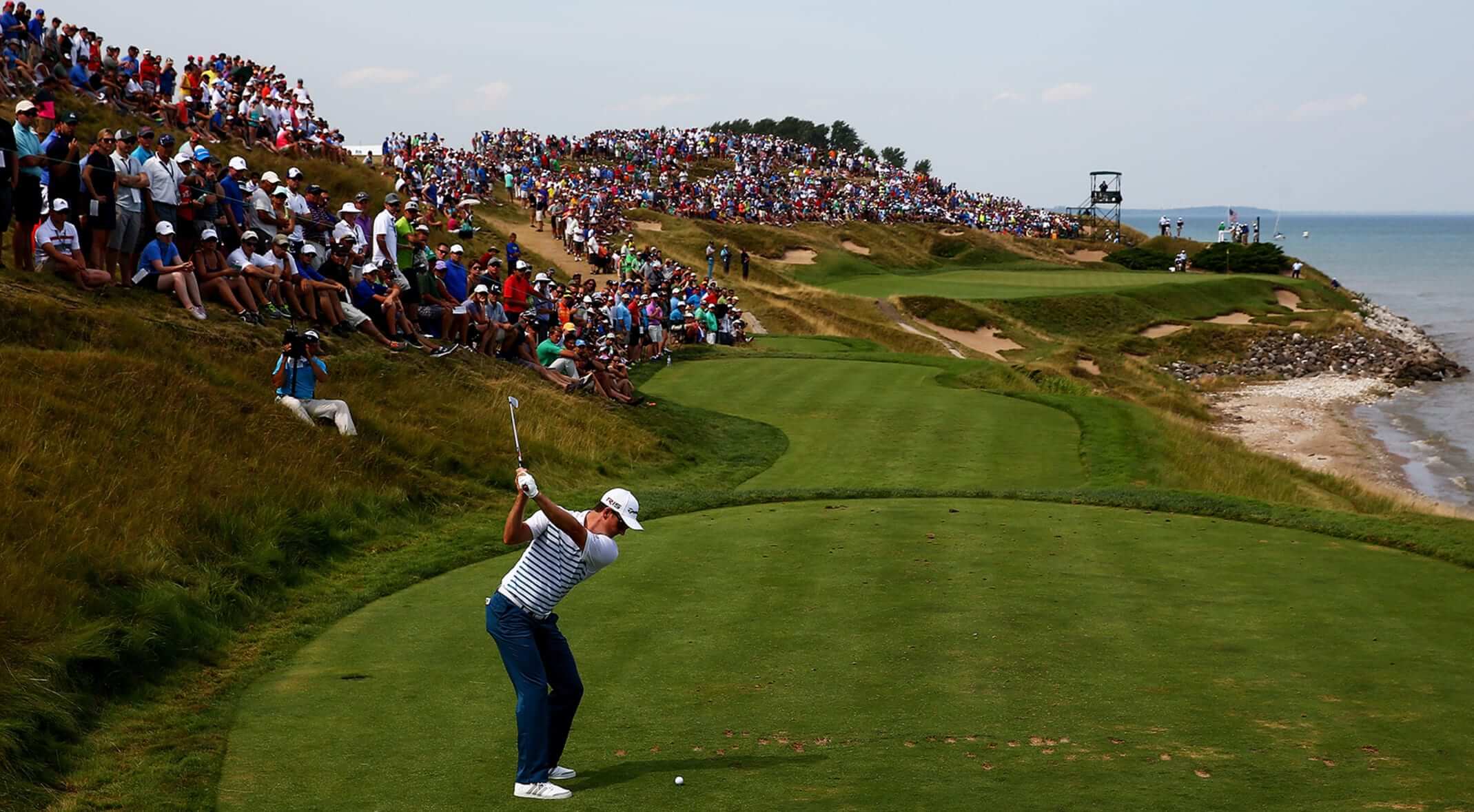 Whistling Straits opened in 1998 but really grabbed everyone's attention when it hosted the 2004 PGA Championship. Pete Dye took a flat wasteland on Wisconsin's lakefront and turned it into a rugged roller coaster of a course that evokes Scotland at every turn.
You find grassy dunes and deep pot bunkers on the Straits Course, as well as stone bridges and even Scottish sheep standing almost sideways on hillsides. When the wind whistles off Lake Michigan, this course can be a terror track. But the greens are large enough that if you play from the set of tees that matches your skill level, you have a chance to score.
Ten Great Short Game Golf Courses – Extras
Because golf balls fly farther and big drivers loaded with springlike faces launch balls like never before, some courses are finding that their designs are too short. However, equipment promising all the distance in the world doesn't help the short game, which remains the most elegant and important aspect of golf. The golf courses we highlight in this section are exciting not for their lengths, which they may or may not have, but for the short-game challenges of their intriguing designs.
Many of these courses host televised tournaments, including R&A, PGA, LPGA, and Champions Tour events. If you want to pick up some short-game strategy or just catch some exciting action, tune in when you see these courses on the dial (or, better yet, attend the tournament). And if you have the time and resources, get out there and test your short game on these courses!
The Old Course at St. Andrews (Fife, Scotland)
The birthplace of golf, where the game was invented more than 500 years ago, is a cherished antique that golfers all over the globe make a pilgrimage to. Every six years or so (including in 2010), the Old Course hosts the British Open Championship — the oldest golf championship on record. The Old Course is a links course; its seaside location means that the wind blows more often than not.
Crafty Scots realized that wind is bad for a golf ball flying through the air, so they started perfecting low-running pitches and chips. The Old Course, which was designed more by nature than man, offers plenty of opportunity to be imaginative with pitch and run shots.
The short grass and open fronts to greens even encourage you to use a putter from as far as 20 paces off the green. The Old Course also has giant double greens that serve two holes at once, so players often face cross-country putts.
Players must beware of the menacing, deep, sod-faced bunkers (with names such as Principal's Nose and Hell Bunker) that suck in wayward shots. So severe are these bunkers, which were originally dug by sheep looking for escape from the wind, that playersdug by sheep looking for escape from the wind, that players sometimes resign themselves to playing shots out sideways rather than toward the hole just to have a fighting chance at a respectable score.
Pinehurst No. 2 (Pinehurst, North Carolina)
Pinehurst No. 2 (also featured in "Gary's ten favorite courses") is part of the famed, eight-course Pinehurst Resort, which opened in 1895 and retains much of its old-fashioned charm — especially its old-fashioned design. No. 2 looms large because of its undulating, crowned greens and strategically placed bunkers. Putts misdirected with too much bravado can roll right off the green and into a bunker.
Stadium Course, TPC at Sawgrass (Ponte Vedra Beach,  Florida)
The Tournament Players Club at Sawgrass is the home of The Players Championship — the richest tournament on the PGA Tour — and boy, do the players earn their money that week! Golf course architect Pete Dye took Florida swampland between Jacksonville and St. Augustine and created 18 snarling holes that seem to rise from the wetlands just enough to allow the passage of play. Wooden bulkheads hold back the swamp on most holes.
The 132-yard, par-3 17th hole is one of the most famous in golf because its green literally rests on an island — a small patch of land in the middle of an alligator-filled pond that claims thousands of mishit golf balls each year.
Dye also punctuated his TPC course with waste bunkers that line one side or another on most every hole. The greens are undulated and speedy, and most of them are perched on severe slopes with thatched rough, meaning players who miss the green often have awkward stances and bad lies.
The course also has quirky moguls and difficult mounds to play from, beside and behind the greens, that Dye inserted to make the flat land more punishing. You can't find anything subtle about the TPC at Sawgrass Stadium Course —find anything subtle about the TPC at Sawgrass Stadium Course — you have to play do-or-die, target golf.
Ballybunion Old Course (County Kerry, Ireland)
In early 1897, an article in the Irish Times dismissed Ballybunion's Old Course as "a rabbit warren below the village, where a golfer requires limitless patience and an inexhaustible supply of golf balls."
And only 12 holes existed at the time! Now Ballybunion Golf Club offers 18 of the most memorable holes you may ever play. With fairways less than 30 yards wide and tiny greens perched in towering sea-smashed sand dunes, Ballybunion is a roller coaster.
The wild and wooly golf links run alongside the Atlantic Ocean between castle ruins and a trailer park. Ballybunion begins its daring dance with craggy clifftops that slide into the ocean and sends golfers through passages in wind-blown dunes that block the sun.
Tangled rough, grass bunkers, and gaping sod-faced bunkers seem to creep closer to the green as you look over your shot.
If you get a chance to play this bracing, natural masterpiece, follow the poetic and sometimes amusing advice of the Irish caddies when reading the tricky greens, which have quizzical breaks and head- scratching invisible undulations. Reaching a green at Ballybunion is only the beginning of playing the hole! Ballybunion requires precision to reach the green . . . and precision after you reach the green. The course is simply a beautiful puzzle.
Threetops at Treetops Resort (Gaylord, Michigan)
Threetops is a 9-hole collection of par-3s at Treetops Resort in Northern Michigan. Although the resort features four regulation golf courses, Threetops enjoys the most popularity because of its distinction as the most picturesque and enjoyable par-3 course in the world.
The holes range from 100 to 180 yards, but they have elevation changes of as much as 170 feet from tee to green.
Deciding on a club to use is tricky with that kind of elevation change, but you can playto use is tricky with that kind of elevation change, but you can play most holes with a mid or short iron. Plenty of bunkers guard the steeply undulated greens.
Threetops, designed by teaching guru and architect Rick Smith, is cut through lush forest above the Pigeon River Valley. Each year the course plays host to the $1 million Par-3 Shootout, a televised skins game tournament that offers a cool million for an ace. Lee Trevino cashed in once.
Strategic Fox, Fox Hills Golf Club (Plymouth, Michigan)
The Strategic Fox Golf Course opened in 2001 as part of the Fox Hills golf complex just west of Detroit. When noted architect Ray Hearn designed the course, he sought to create a short-game course that would appeal to beginners and skilled players looking to hone their short games.
In fact, Strategic Fox also offers an extensive practice facility designed with a short-game emphasis — for before or after the round! The 18-hole course begins with a user-friendly 105-yard opening hole and then increases in intensity and challenge along the way.
Strategic Fox plays to a yardage of 2,554 yards, and its longest hole is its last — the 195-yard 18th. Hearn designed the holes so that players can choose between pitch and run shots and high lob-wedge pitches. Players have to carry plenty of bunkers and water hazards. Some of the greens have as much as three feet of break, and the holes can be visually deceptive.
The greens have false fronts and close-cut collections areas, as well as grass bunkers.
Indian Creek Country Club (Miami Beach, Florida)
Built in 1927 by golf course architect William Flynn, this classical timepiece of a golf course sits on a private island in Biscayne Bay between Miami Beach and Miami proper.
Former Masters champion and short-game expert Raymond Floyd used to live on the island,and short-game expert Raymond Floyd used to live on the island, and he calls Indian Creek one of William Flynn's finest works.
At Indian Creek, Flynn spiced up the flat tropical terrain with 124 large, sculpted sand bunkers that flash up the sides of the raised greens. Indian Creek's greens are built so that the ball will roll off the edges into bunkers or down a steep slope.
Some of the bunkers appear to be in front of the green but actually cozy up along the entire side of the green. The holes are cut to penalize aggressive shots.
On top of that, South Florida's Bermuda grass has a pronounced grain to it. When the grain runs away from you, the ball rolls faster. When the grain leans toward you, the greenside grass can catch and stop your ball.
The Ocean Course at Kiawah Island Golf Resort (Charleston, South Carolina)
The Ocean Course has been much talked about since the day it was built to host the 1991 Ryder Cup Matches, which are known as the "War by the Shore." Pete Dye designed the course along nearly three miles of pristine Atlantic property in the Carolina low country.
Kiawah's Ocean Course throws windy conditions at you, but it also allows you to negotiate the terrain with a variety of short-game options and necessities. The greens are undulating and well guarded. Deep bunkers line the course and provide visually intimidating approach shots.
The bunkers, rough, and scrub that lurk around the greens inflict severe punishment on players who miss the green. All 18 holes offer views of the ocean, and the course plays mean and tough to a length of nearly 7,300 yards.
Augusta National Golf Club (Augusta, Georgia)
Although the highly private nature of Augusta National (and its short season — the club opens from October to May only) makes it unlikely that you'll ever play there, the world gets a peek inside the gates of the club each year during the Masters.
Whether you're lucky enough to score a ticket or you watch the highest-ratedlucky enough to score a ticket or you watch the highest-rated tournament on television, you can see that the course Alister MacKenzie and Robert Tyre Jones Jr. designed in the late 1920s is a short-game challenge.
Designers have recently lengthened Augusta National and added a thin cut of light rough, but they shouldn't worry too much about technology ruining this gem: The speedy and undulating greens have undone some of the world's greatest players, including Greg Norman.
The greens weren't designed to be as fast and severe as they are now, but modern land-management advancements, plus the change from Bermuda grass to slippery, fast-running bent grass on the greens, have prompted some players to dub the Masters Tournament "the Augusta National Putting Contest."
What you can't see on TV is how hilly Augusta National really is and just how sloped its greens are. The 9th green, for instance, slopes so severely from back to front that players must hit their approach shots beyond the hole to avoid having the ball run off the front of the green and back down into the fairway.
Perhaps the most delicate and terrifying shot on the golf course is in the heart of what is known as "Amen Corner." The 155-yard, par-3 12th hole, the shortest hole on the course, is known as the "Golden
Bell." The shallow, sloped green lies in what looks like a giant flowerbed behind Rae's Creek. Shots hit into bunkers behind the green must be blasted out with the touch of a surgeon to avoid running the shot over the front of the green, down the hill, and into the creek.
Club de Golf Valderrama (San Roque, Cadiz, Spain)
Designed by the late Robert Trent Jones, Valderrama is known as the Augusta National of Spain because of its fast greens, lovely setting, and brilliant conditioning. The 6,356-meter (6,951-yard) golf course has hosted Ryder Cup Matches, World Golf Championships, and the Volvo Masters Tournament.
The course attracts such events because it's rich in shot values.Valderrama's 17th hole, a par-5 named "Los Gabiones," gives even the professional players fits. In 1999, Tiger Woods hit a shot into the slippery, tilted green that spun from the back of the green beyond the hole all the way back off the front and into the water.
The club has since changed the hole and lowered some of the mounds that one of the players referred to as "dead elephants." Cork trees planted throughout the course complicate matters. You must carefully position the ball to the openings in front of the greens to have favorable short-game situations.