Golf, the gentleman's game, got its start centuries ago by what I can only hope to be ancestors of yours truly in 15th century Scotland, and since then its popularity around the world has skyrocketed. Millions of people each year spend their well-earned or well-inherited dollars to see the world's best golfers in action.
While golf's first courses may have been seaside sandy links-style courses, once it spread across the pond to the United States, it became synonymous with lush green fairways, shaded trees, beautiful landscaping and lots of money.
Fast forward a few centuries to the modern state of golf, there are many public and private courses across the world from which avid amateurs and pros alike can choose as they whittle away their weekends on the links.
But if you found yourself asking, "Where is the most expensive golf course in the world?", well you're welcome in advance because I have the answer.
The World's Most Expensive Golf Courses
1. Shadow Creek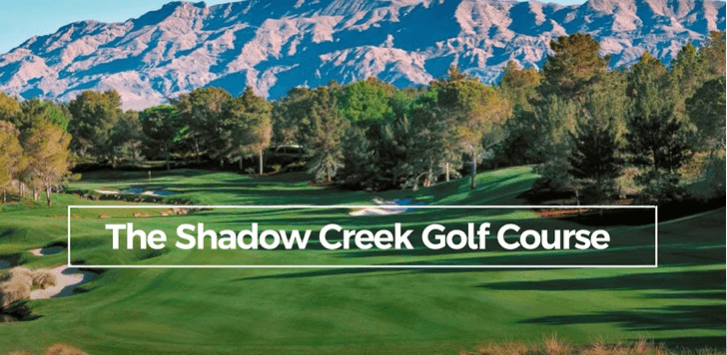 To play on the most expensive course in the world, you won't just need money, you'll also need a private invitation.
This golf course was built in the desert to obscure it from the public eye, and is surprisingly set in a place known better for something else, 'gambling'.
That's right my friends, the most expensive round of golf in the world is in Sin City itself, Las Vegas Nevada. 
The Shadow Creek golf course requires only a few things: deep pockets, and an invitation that comes as a result of being a guest at the MGM Mirage resort, owned by hotel magnate, Steve Wynn. And if you checked out his stock prices lately👀 (hint:great dividends).
Well, what do you get for the $550 it'll cost you to play at Shadow Creek? I'm glad you asked. You'll be whisked away to the golf course from your hotel by a limo, greeted at the club with your own caddy and golf cart.
You're off to play on the beautiful Tom Farzio designed course, costing an estimated $100 million dollars.
Reportedly, this course has over 21,000 trees of 200 different varieties. Quite an undertaking, given that everything around it is sand.
Although it's the most expensive course to play in the world, Shadow Creek Golf course is not as famous as many of its counterparts in the United States.
Pebble beach, Augusta, Bethpage, Pinehurst, Shinnecock Hills, and Murfield village are all sites of the famous PGA tour tournaments, bringing fans from across the world to enjoy four days of watching their favorite professionals hit that tiny ball around 18 holes.
Fans enjoy good food, drink, beautiful scenery camaraderie, local shopping, and often times spa services.
That's right, not only do these exclusive clubs host tournaments where first place brings upwards of a million dollars, but for those of you who are inclined to a pampered lifestyle, many of these world famous golf clubs have spa amenities.
You can slice or hook your way from the golf course straight to the spa with the dollars you'll spend begin to stack up as high as the cliffs at pebble beach.
2. Pebble Beach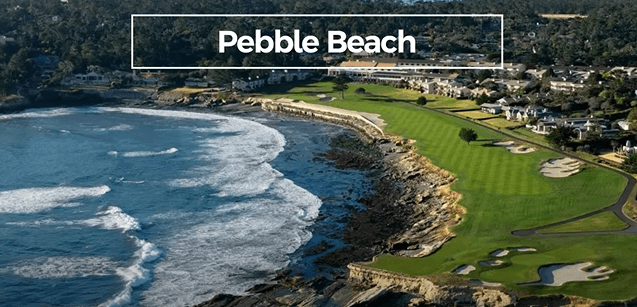 Speaking of Pebble beach, it is the site of the second most expensive round of golf to play at $475 dollars per person and probably one of the most recognized golf courses in the world.
Known for its pacific ocean views, this course is the frequent host of both the U.S open and the Ryder cup tournaments.
If you've had a rough day with too many of your shots ending up in a bunker, well head on over to the spa at Pebble beach; a five-star Forbes award-winning haven of relaxation, and nothing says luxury like a 75-minute royal treatment massage.
At $290 dollars, the royal treatment is a head-to-toe massage with honey, ginger, beeswax and a royal jelly mask. You'll feel like a king or queen after this massage, and ready to tackle whatever golfing, shopping, eating or socializing lies ahead for the coming days.
Add in an espresso limon slimming wrap for $185 dollars, and you've already spent $475 bucks at the spa, the same price as a round of golf.
The espresso limon slimming wrap is an experience whereby you are treated to a foot massage while the rest of your body is wrapped in a blend of coffee oil, italian lemons and madagascar cinnamon. And why would anyone find themselves desiring to be wrapped in coffee, lemon and cinnamon? Well who knows? I'm rich, WHY NOT?!
3. Pinehurst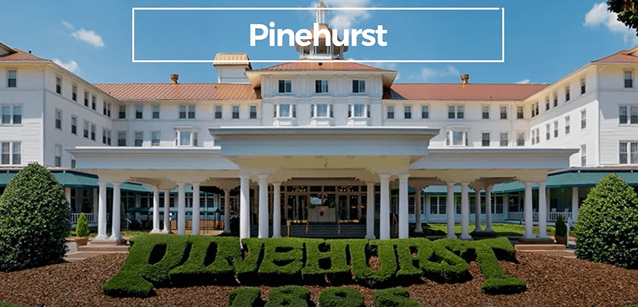 Not to be outdone by Pebble beach, the Pinehurst offers golfers a wonderful venue where they can spend-spend-spend.
Located in Pinehurst, North Carolina, course number two is one of the most famous and expensive courses on which you can play. In recent years, it has redesigned the number two course to resemble that of the links-style courses back in Scotland. But never fear if you prefer greenery over sand and sea oats.
Pinehurst has seven other courses to choose from. Pinehurst number two will cost you $375 dollars a person, but you have to plan ahead.
The course's popularity makes it highly difficult to get to tea time. Lucky for you, while you're waiting for a tea time to become available, there is plenty of nearby shopping if you're itching to spin that cheddar, including ironically, a cheese and wine shop.
The quaint village shops at Pinehurst offers shoppers a wide and expensive variety of places to shop, with the ever predictable southern charm thrown in for good measure.
Just hop in your bentley or rolls royce, which ever you brought with you on the trip that is, and take a jaunt down to southern pines where its revitalized downtown area has many eateries, clothing stores, housewares, furniture stores, antique stores, and pubs to choose from.
Still waiting on that tea time? Drive down to seagrove, the site of the world's biggest conglomeration of potters.
If you've ever wanted to spend $500 on a set of coffee mugs for your morning pick me up, well your chance awaits you in seagrove.
For myself, I think i'd prefer staying within the confines of the famed resort at Pinehurst, offering services such as stone massages, nail care, collagen boosting facials, oxygen therapy, a bourbon buttercream body scrub, seaweed wrap and cryotherapy. You definitely won't shed a tear after partaking in an indulgent afternoon at the spa.
Well maybe a tear of happiness, but you don't have to stay in the United States to find an expensive place to play. You can just hop in your private jet and head across the pond near where the game of golf first started.
4. Old Head Golf Links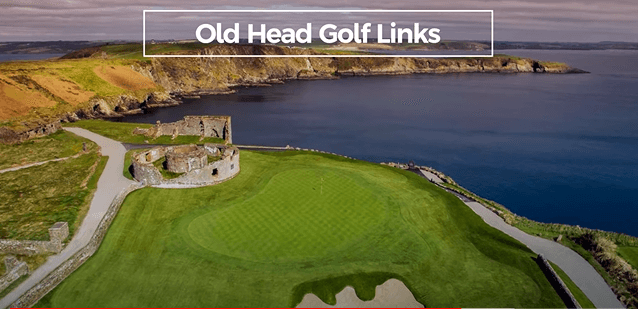 Old head golf links in Country Cork Ireland is famous and expensive. A round of golf here is a mere $400, but the views are astounding.
It is situated atop cliffs overlooking the Atlantic Ocean and is known as a sanctuary for people who are looking for the finest personalized services.
If you think golf has been around a long, time wait until you hear about Old Head. According to its history, Old Head is one of the few landmarks in Northern Europe to be shown on a map drawn by Ptolemy; the ancient greek historian vikings once ruled the land, and then with the Norman invasion, the land passed into the control of a family who built a castle there in the 12th century.
Your money has plenty of places to go at Old Head, whether it's the exclusive presidential suite, the fine dining or the spa at Old Head.
This Irish retreat will have you so relaxed you'll be seeing leprechauns. But just be careful not to look far over the 300-foot cliffs at the crashing Atlantic below.
Old Head is essentially its own island providing golf enthusiasts with unparalleled beauty, sea breezes, the aroma of many unique varieties of flowers spanning across 220 acres and jutting out two miles into the Atlantic ocean.
All of your needs are catered to on this golf lovers retreat, starting with the posh oaklined locker rooms where you're just getting your golf shoes laced up before your round.
Final Verdict
The world of golf includes much more than golf as you can see, and although prices for a round of golf and the accompanying amenities are always in fluctuation, you can rest assured that your money will be well spent if it's luxury you're after.
Golf is loved by fans all over the world whether they're following their favorite players like Tiger Woods, Phil Mickelson or Dustin Johnson, or whether they're hitting the links themselves for a day on the course.
And, wherever there's a nice golf course you can also rest assured that good food, good wine, shopping and spa services won't be too far away.
So there you have it the world's most expensive golf courses.