How is it that the world's golf capital lies in California's desert? It's no secret that Palm Springs relies on an aquifer underneath the Coachella Valley to water its stretches of golf courses.
In fact, Palm Springs has been targeted as a retirement destination because of its warm weather. Despite the desert's extreme conditions, Palm Springs has an attractive microclimate thanks to the surrounding mountainous shield against direct sunlight and wind.
In 1925, Tom O'Donnell opened Palm Springs' first golf course named after himself. Today, Palm Springs' economy heavily depends on its golf courses.
So, how many golf courses are in Palm Springs, California, today?
How Many Golf Courses in Palm Springs California?
There are roughly 125 golf courses within close vicinity of Palm Springs. About 40 golf courses at Palm Springs are public, some of which have hosted tournaments like the Stadium Course at PGA West. Moreover, some golf courses can charge as low as $20, while others cross the $200 boundary.
How Much Does It Cost to Golf in Palm Springs?
The prices at Palm Springs widely vary. On the lower end of the spectrum, Tommy Jacobs' Bel-Air Greens charges as low as $20 and even less for a replay.
Yet, the golf course isn't challenging enough. Its 3,350-yard is comparatively short, featuring flat fairways and trees. If you're a beginner, Jacobs' Bel-Air Greens will be a great starting point. However, if your skill level is beyond that, you'll need to pay more.
On the opposite end of the spectrum, we can find one of the most challenging golf courses in the United States, the PGA West TPC Stadium Course. Their fees range from $199 to $209.
Within the same La Quinta Club, we can find Mountain Course, which charges around $169 during weekends.
What Is The Cheapest Time to Go to Palm Springs?
If you're looking for better deals, summer is the season to target at Palm Springs. To avoid the uncomfortable desert conditions, tourists visit Palm Springs in the winter.
Therefore, the number of golfers drops significantly in summer, leading to remarkable price drops at the beginning of May. Still, it would be better to wait until early September because that's when the summer rates reach their lowest point.
However, since the 2020's pandemic, this pricing trend has significantly changed. Although the prices still drop in summer, it happens later in the season without a remarkable reduction.
For instance, you can expect to pay $89 this summer instead of the $65 you used to pay for the same game two years ago.
What Is the Overseed Schedule in Palm Springs?
If you're planning to visit Palm Springs right before the winter season, beware of the overseed schedule. Every year, the golf courses at Palm Springs close their doors for planting ryegrass before the winter season.
The overseed schedule lasts for a few weeks, from early October to mid-November. However, some golf courses will finish their overseed schedule earlier to receive visitors when other golf courses are closed.
In all cases, call your target resort ahead or check its overseed schedule online.
What Are the Best Public Golf Courses in Palm Springs?
There are around 40 public golf courses in Palm Springs. Here are some of the best options.
Desert Willow Golf Resort (Firecliff)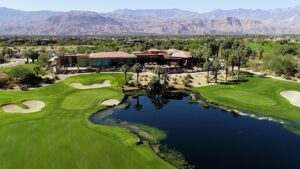 Developed by Palm Desert, Desert Willow Golf Resort levels up to the standards of private golf courses, although it's actually public. Founded in 1997, this resort has seized a valuable location with captivating views and optimum conditions.
In addition to its natural beauty, Desert Willow has a challenging golf course that'll force you to think twice about your steps around its obstacles. The golf course features over 100 bunkers besides various water features and waste areas.
Pete Dye Mountain Course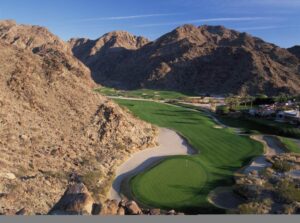 Bounded by the Santa Rosa Mountains and their captivating beauty, the Pete Dye Mountain Course is privileged with one impressive site.
The course is known for its challenging signature hole. To access the back tees, set at 167 yards, you'll have to reach the tee box through the rocky steps at the mountain base.
Escena Golf Club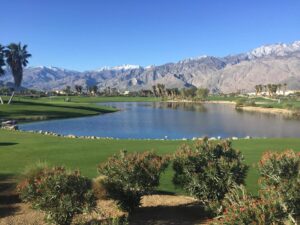 If you're looking for the best value in the infamous hotbed of Palm Springs, Escena Golf Club stands out among the other public golf courses.
Escena Golf Club offers challenging tournament tees that measure more than 7100 yards.
What Are the Tournament Golf Courses in Palm Springs?
It's no surprise that the world's Golf capital should host the top golf championships. You might get a chance to test your skills at one of those tournament-tested golf courses. Let's take a glance at some of the options.
The Stadium Course at PGA West
Designed by Pete Dye, the PGA West Stadium Course is one of America's most difficult golf courses. Since the 1980s, it has hosted multiple tournaments, including the PGA Club Professional Championship and the PGA Tour Qualifying School Finals.
Nicklaus Tournament Course at PGA West
The Nicklaus public course shares its clubhouse with the stadium course inside the PGA west complex. Right next door, the Nicklaus private course shares its clubhouse with the private courses of Palmer and Weiskopf.
From 1992 onwards, the Nicklaus course has regularly hosted tournaments, including Golf Channel Am Tour national finals and PGA Tour Qualifying School.
The Classic Club
Once a tournament host, The Classic Club has unfortunately proved too challenging with its windy location. Although The Classic Club doesn't host tournaments anymore, its golf course is still worth the try for both pros and amateurs.
Owing to the dramatic interplay between water and islands, many shots are dictated by water in this unique setting.
Wrap Up
Finally, how many golf courses are in Palm Springs, California?
There are close to 125 green-carpeted golf courses in Palm Springs. With almost a century in development, this golf capital has opened its arms to amateurs and professionals alike.
With the possibility of cutting down your fees, you can enjoy a brief game at one of the public golf courses and even up your skill level on some of the tournament-tested arenas.