You've found a course that you want to play, your clubs are in the car, and you have called ahead to arrange for a tee time. Now what? From where to put your clubs to whom you need to see before playing, this article covers the check-in process from start to finish.
Bag Drop
Upon arriving at the course, you will usually find an area just outside the clubhouse where you can place your golf bag prior to entering the building.
Often marked with a sign saying "Bag Drop," this is the designated location for golf clubs to be left; do not bring your equipment into the clubhouse.
At many courses, you will find someone there to help you; if there is no attendant, inquire inside the clubhouse as to the best location for your clubs.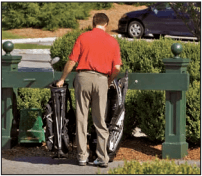 Clubhouse and Proshop
You can't play the course until you check in at the pro shop, located inside the clubhouse. Numerous other facilities are often located within the clubhouse aswell, including bathrooms, dining areas, and locker rooms.
The pro shop is where you often pay the required green fees that enable you to play the course. You can also find equipment for sale there—from tees and golf balls to golf clubs and clothing.
Yardage books, scorecards, and pencils to use during your round are also often available in the pro shop, although you should find a scorecard and pencil on your golf cart.
Locker Room
If the course you are playing has locker rooms, you may change into your golf shoes and appropriate golf attire there. Check with the pro shop staff to see whether you can leave your non-golf shoes or a change of clothes inside a locker or whether you must leave them in your car during your round.
Many facilities frown on golfers changing shoes or clothes in the parking lot and require the use of locker rooms. Call the course ahead of time to find out its policy.
Warming Up
Always leave yourself time to warm up prior to beginning your round. Whether it's hitting a few practice putts or working through a full bucket of balls with all of your clubs on the practice range, warming up
gets you ready to play.
Also important is stretching the muscles you will use while playing, primarily the muscles in your back,
shoulders, and legs. This section describes how you can warm up at the course.
1. Use The Practice Areas
Virtually every golf course has a practice putting green just outside the clubhouse or near the first tee. Here, you can hit some putts while waiting for the starter to call your group. Keep in mind that this area is often used solely for putting; don't hit chip shots onto the green unless it is permitted.
Many courses also offer a driving range where you can practice hitting balls with your other clubs. You may be hitting off mats or off real grass toward targets in the distance.
Check the yardage to each target so that you can accurately gauge how far you are hitting the ball. You can obtain a bucket of practice range balls (the cost of which is sometimes included in your green fee; otherwise, you must pay for it separately) either in the pro shop or via a machine near the driving range itself.
Some pro shops will furnish you with the token needed to obtain practice balls at the machine near the range. Don't worry about picking them up after you've hit them; the range will have a machine that picks up all the balls.
In fact, don't leave the designated hitting area to grab an extra ball to hit; it's not worth the potential physical danger.
2. Stretch
We can't overemphasize the importance of stretching before playing golf. Warming up loosens muscles, which helps prevent injury and improves your ability to make a proper swing. In fact, it's more important to stretch for five minutes before starting than it is to hit balls on the range for the same amount of time.
Back and wrist injuries are the most common among golfers, especially for women because of their smaller wrists. These injuries are often caused by hitting the ground repeatedly with the club during a practice session or trying to swing through high and heavy rough, among other reasons.
As your flexibility increases, your range of motion will increase. Subtle changes to your swing are likely to take place as you improve.
Today, there are even golf-specific exercise therapists who can help build an individualized program for you. Short of doing that, you can do these basic stretches prior to play (and even during the round) to warm up and stay loose.
---
stretch#1: To help your overall balance and stability during the swing, hold onto a cart or other stable object with your right hand and grasp your left foot or ankle with your left hand. Bring that foot up toward your posterior until you feel a stretch in your thigh, hamstring, and hip. Hold for 15 seconds, and then repeat with the opposite hand and leg.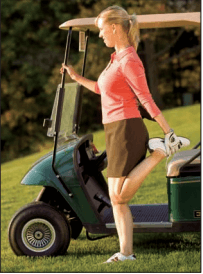 ---
Stretch#2: To help with your hip rotation during the swing, this stretch works on the muscles in and around the hips. Sit on a golf cart (or on the edge of a chair or bench) and place your right ankle on top of your left knee. With your right palm, gently push down on your right knee and hold for 15 seconds. Repeat with the opposite leg and hand.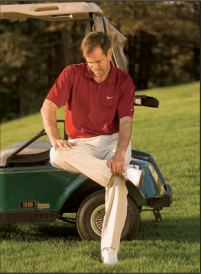 ---
stretch#3: This next stretch helps you maintain stability and improves your posture throughout the swing.
Standing next to a golf cart, place your right foot on the floor of the cart, with your heel down and your toes in the air.
Lean over from the hips and reach toward your toes. Hold that position for 15 seconds to feel a stretch in your calf and hamstring.
Repeat with the opposite leg and hand.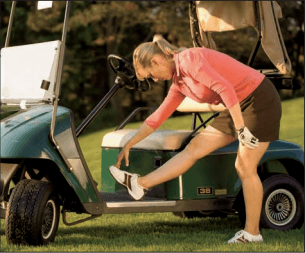 ---
stretch#4: Tight shoulders can lead to poor posture and a faulty swing path that forces the club to come over the top of the ball instead of taking a proper inside-square-inside path. This stretch helps the rotation of your shoulders by targeting the rotator cuff area.
Hold one end of a club with your left palm facing downward.
Grasp the other end of the club with your right palm facing upward. The club should be pointed upward underneath your right shoulder.
Gently pull up with your left hand and hold the stretch for 15 seconds.
Repeat with the opposite hands under the other shoulder.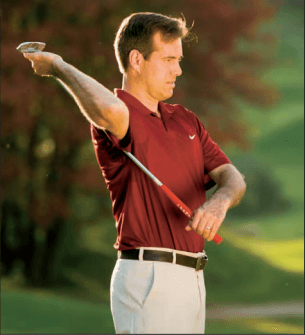 ---
Gear Up
There are certain items that you should have in your golf bag at all times. Here's a checklist:
• Golf clubs: It doesn't matter so much in a casual round, but the official rules set a limit of 14 clubs per bag. You may own more clubs than that, so consider the course layout when choosing which clubs to leave behind.
For example, is it a long course? If so, then carry an extra wood or hybrid club. You can carry fewer clubs as well, especially if you're trying to work on certain shots or increase your comfort level with certain clubs. Plus, if you are walking, bringing fewer than 14 clubs makes your carry bag lighter.
• Golf balls: Although golf balls can weigh your bag down in a hurry if you're carrying, make sure that you have several good balls with you, especially if you're playing a course that has deep rough, water hazards, or wooded areas in which balls can easily be lost (or easily found, since your fellow golfers likely have left balls in those very locations).
• Tees: It's a good idea to have both long tees (up to 4 inches) for drives and short tees for teeing off on par-three holes. In a pinch, a broken tee can fill in for a short tee. Check the tee box for usable tees left behind by other golfers.
• Golf glove: You aren't required to use a glove, but most players choose to wear one to protect their top hand (for righties, the left hand; for lefties, the right) and achieve a better grip.
You can also purchase special gloves for various weather conditions: half-fingered gloves for hot days or women with long nails, waterproof gloves for rainy days or women with long nails, etc. Remember to try on gloves before buying to ensure a proper fit.
• Ball marker: You can purchase one of these tools individually, but many golf gloves come with a built-in marker that snaps off. You can also use a coin or similar flat object.
• Divot repair tool: If your ball lands on the green and makes a dent, this is the tool you use to flatten it out. You wouldn't want your perfect putt to be thrown off-course, so don't leave your own marks behind to spoil other players' putts!
• Pen or pencil: Make sure you have something to write with for keeping score and making notes about your round. Short pencils are usually available for free in the pro shop or can be obtained from the starter at the first tee.
• Protection from the elements: Bring sunscreen and a hat for sunny days (and cloudy ones—you can still get
burned!), and an umbrella if rain is a possibility.
Bandages come in handy, too, in case of blisters. Golf clothing is now being made of high-tech materials that wick moisture away from the skin, protect you from the sun's UV rays, and even ward off bugs thanks to insect repellent woven into the fabric.
It's important to clean out your golf bag, ideally after every round but at least once a month, to make sure that you have all the necessary supplies ready for your next round.
Getting Your Game Underway
You've paid your green fee, you've warmed up, and you're ready to play. But you have one more person to talk to before you can start your round: the starter. You also want to make sure that you have enough food and drinks to maintain your energy throughout the round.
The Starter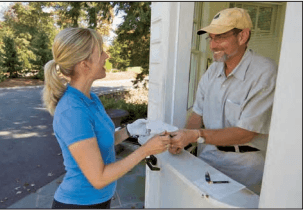 After paying your green fee, you may need to check in with the starter. The starter's job is to collect your green fee
receipt outside the clubhouse prior to your approaching the first tee. The starter controls access to the first tee; he or she will call your group when appropriate and inform you when to begin play.
The starter may also provide you with a scorecard, pencil, yardage book, tees, ball marker, and divot repair
tool. The starter also organizes who you will be playing with. If you are on your own (a "single"), you may be joined by one other person (to form a twosome), two other people (a threesome), or three other people (a foursome). If the course is not busy, you may be allowed to play on your own.
Food and Drinks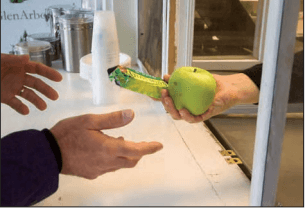 When it comes to food and drinks at golf courses, you have four options:
Bring your own.
Purchase items in the clubhouse prior to playing or after finishing nine holes (the ninth hole usually concludes near the clubhouse).
Purchase items at the snack shop/halfway house (so called because it is located near the ninth green and the tenth tee when those holes are not located near the clubhouse).
Look for a beverage cart that makes its way around some courses.
Remember, keeping your energy up is important, as is staying hydrated. If you wait until you feel thirsty, it's usually too late, especially on hot days.