Golf unlike most sports is quite expensive and is arguably the most expensive sport of all. First you need to buy a range of equipment from golf clubs (that could cost you $1,000) to golf balls, shoes, carts and bags.
In addition, golfers will need to pay green fees before playing on the golf course. The typical cost of green fees per round of golf is $61 according to the National Golf Foundation.
So what is the total cost you are looking at? Well for juniors, we estimated that it could cost anywhere from $800-$3500 per year, and $1800-$3400 for seniors. These costs are a bit inflated considering that places in the country cannot play year round.
One of the main reasons why golf is expensive is because it requires a full set of golf clubs that you need to have with additional accessories like the balls, tees, markers and towels to dry golf balls and sweaty hands.
Not to mention, you have to buy the right clothing and pay for golf membership fees if you wish to have unlimited access to the golf course. Some of these course membership fees can cost hundreds if not thousands of dollars per year.
The Different Expenses Of Golf 
1. The Golf Cart Fees
The first equipment we will be looking at is the golf cart. This is the small motorized vehicle designed to carry 2 golfers around the golf course. The purpose of this vehicle is to reduce the amount of energy and time it will take a player to walk the green.
There are some golf courses with different policies that includes an add-on expense like the golf cart ride. When a golfer uses the golf cart, he or she typically pays a $20 fee, but in most cases the green fee that you would pay initially would cover this cost.
If you can't afford to pay additional cost for the golf cart, then you can save money by walking rather than riding.
For some people $20 may seem too much for the cost of a golf ride, and quite frankly it is. The reason is that these vehicles are luxurious and are designed for specific purposes. And with available high quality upgrades, these carts can get costly.
2. The Golf Clubs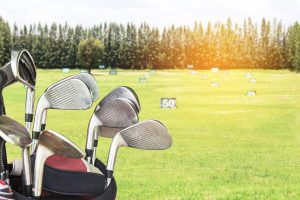 The cost of a complete set of golf clubs are dependent on the level the golfer is at. For example a set of golf clubs can cost as much as $1,000, but beginners can still have a good game at a much lower price, ranging from $250 to $350.
On the other hand, it could cost between $3,500 to $5,500 for a professional golfer's bag of clubs, that is if you were to buy each of these clubs from a local golf store in your area.
The top 100 golfers in the world, specifically those on the PGA Tour uses about 13 different brands of golf clubs and 59 models. Some of these brands include PING, Srixon, TaylorMade, and Callaway just to name a few.
The most common iron set up used by pros seem to be the 4-iron to pitching wedge.
For beginners, the most important golf clubs that should be in your bag is the putter, the driver, the wedges, 7 irons, hybrid and wood; the putter being the most important of all.
$25 to $600 is what you can expect to spend on a new putter. If you are just getting started, you don't need to spend no more than $200. Moreover, there are a lot more affordable options ranging from $75-$100 if you don't wish to spend so much on a putter.
3. Golf Balls
The next item on our list is the golf ball. Most professional golf players carry 9 balls in their bags which is enough for three holes and in case they lose or damage one.
Most golf players follow the one ball rule, which states that you can only use one brand or model of ball on the course. Therefore, if you are buying golf balls, make sure to keep this rule at the back of your mind as you wouldn't want to end up with a penalty when playing.
So what's the cost you are looking at for purchasing golf balls?
You can expect to pay $10 to $15 per dozen of golf balls with $50 being the high end. Some of the best value golf balls are the Srixon, Callaway, Taylormade, Titleist and vice tour golf ball. But remember that you can only use one model of golf ball on the course so choose wisely.
Buying an expensive golf ball will not be worth it as there is no difference between a cheap and expensive one. There is no reason to spend the extra money if you can't see or feel any difference.
All-in-all golf balls are one of the least expensive items you will need in your catalogue.
4. Golf Shoes
Some people may wonder if there is a difference between golf shoes and regular running shoes. The answer is yes. Golf shoes have bigger and wider footprints than your typical running shoes.
They are made that way to help you keep your balance by adding traction while standing and swinging side to side.
Players usually see massive improvements in their golf swings just by changing their shoes. The spikes in the golf shoes will give you a lot more grip onto the ground, thereby allowing your swing to lead to a farther distance.
The manner at which you strike the ball will also improve since you gain more stability wearing the shoes.
You should spend between $60 to $300 on a golf shoes. The cheaper ones are sometimes made of synthetic leather, while the expensive ones feature the finest calfskin leather.
When it comes to the expense of golf shoes, the price has actually decreased over the years, making it more affordable for beginner and intermediate players. This gives them the opportunity to be at the top of their game while looking classy on the green.
Just like in most things, you get what you pay for. You can expect for an expensive shoes to last for a long time as these types of shoes have very high end materials and even waterproof technology integrated into them, depending on the weather conditions.
The inexpensive shoes however may not have these features inside them and they usually have less life expectancy than the expensive ones.
When buying golf shoes, we recommend that you chose from the most accredited and trust worthy brands.
Our top 5 best golf shoes to buy for players of all levels include:
Ecco Biom H4 Golf Shoes
FootJoy Pro/SL Carbon Shoes.
Under Armour Spieth 5 SL Golf Shoes.
FootJoy Premiere Series Flint Golf Shoes.
Adidas CodeChaos Golf Shoes.
These were chosen based off grip, stability, comfort and maximum range of motion.
5. Golf Course Membership Cost
A Golf course membership will give you unlimited access to the golf course, practice facilities, dining room among many other amenities like swimming pools, bar and even possibly other sports like tennis.
With a golf course membership you can play as many rounds of golf as you want and it's a great way to get out of the house more frequently. Not only that, it can provide networking opportunities while helping you improve your game.
For annual cost of a golf membership, you are looking at 1,000-$5,000 per year which equates to $100-$400 monthly.
Of course, these prices defer depending on the type of membership you sign up under such as family, corporate, out of state or just individual.
The golf memberships are expensive due to the fact that people are willing to pay for them to have a good time. But as soon as people stop filing for these memberships, you may see the price fall.
All in all, I would say that it's a good idea to sign up for a membership plan as it will grant you a lot of playing rights and comfort.
Why Do Rich People Like To Play Golf
Golf is commonly considered a 'rich person' sport as the cost of playing can be high. A lot of executives and affluent business men said playing golf with their associate was a great way to build a closer relationship and close deals.
In fact most of these executives claim that their biggest deals were actually made on the golf course.
It's no surprise that many of these deals are made on the golf course, as there is a huge potential for networking opportunities with friends and clients.
You will find that your circle starts to grow each time you meet new people on the golf course.
The barrier to entering golf is quite high compared to other sports. Money is necessary to pay for the right lessons and equipment to improve your game. A rich person would be able to afford these lessons and equipment, thereby allowing him to get good at the game.
All in all, rich people play golf because they can afford to pay the costs to overcome the entry barrier. Moreover, it builds your social status and allow you to network with wealthy people.