When you think of golf, usually you'd almost always think of men in collared shirts and golf slacks and caddies with clubs. It's pretty obvious considering it's a male-dominated sport.
However, there are a few women who are also shaking the system. Although not as popular as the men's category, there's also a growing number of female participants in the industry.
We've seen Lexi Thompson at the tender age of 12 become the youngest golfer ever to qualify to play in the U.S women's open, as well as the Korean-born New Zealand professional golfer Lydia Ko.
In this article we will be discussing the hottest female golfers ranked. So if you're curious to know who these beauties and talents are, continue reading through.
These charmers we're about to enlist are some of the most eye-catching in the field, not just because of their looks and physique but also their impressive plays.
Without further ado here are the top 10 hottest female golfers ranked.
10. Michelle Wie West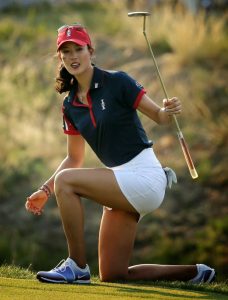 Starting the list at the 10th spot is the American professional golfer Michelle Wie West who began playing at the tender age of four.
Born in Honolulu Hawaii on October 11, 1989, she was the youngest person to ever qualify for the USGA Amateur Championship at the age of 10.
In addition to that, Michelle was also the youngest to qualify for an LPGA Tour event and turned pro shortly after her 16th birthday in 2005.
9. Anna Rawson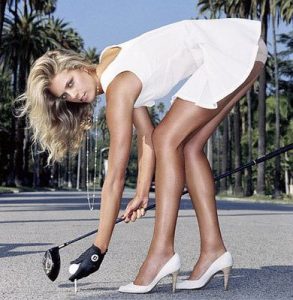 Ninth on the list is a former professional golfer and Australian model. Anna Rawson played on the ladies European tour and the LPGA Tour. She was an amateur golfer who won the South Australian and Victorian Junior championship in 1999 and was a member of the 1999 Australian National Squad.
Post you may like: Best golf shoes for women 
8. Sharmila Nicollet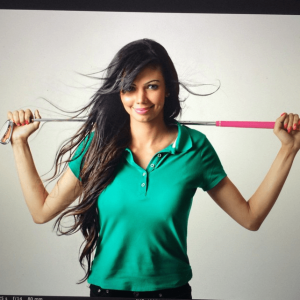 Eight hottest female golfer on our list is the Indian professional golfer Sharmila Nicollet who's a native of Bangalore India. She started playing golf in 2002 at the age of 11 and won her first tournament at the age of 15.
She started competing as a professional golfer in 2009 at the age of 19 and became the youngest Indian golfer to qualify for ladies European Tour. Aside from playing golf, she is an excellent swimmer and was a former national sub junior swimming champ with over 72 gold and silver medals won in state and national aquatic meets from 1997 to 2001.
7. Cheyenne Woods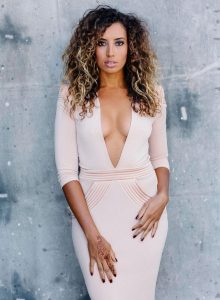 Cheyenne Woods is the daughter of Susan and Earl Dennison Woods jr, the half-brother of the famous Tiger Woods.
Her paternal grandfather Earl Woods, Tiger's father, was her first coach and inspiration. Her name opened a lot of doors and opportunities for her, but she's proven that she's more than her name. She's the sixth African-american to play in the LPGA Tour.
Wherein in an interview, she said quote "An African-American woman has never won on the LPGA, so in general I just feel that golf needs to be more accessible and more inclusive."
Related Post: Best golf clubs for women
6. Blair O'Neal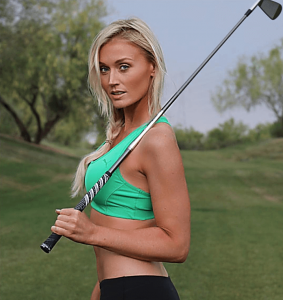 On the sixth spot we have the social media personality, actress, model, and professional golfer Blair O'Neal. She began playing golf at the age of 11, then played for the American Junior Golf Association two years later.
She was a contestant on golf channel's reality contest big break finishing as the runner-up on the show.
O'Neal was named to the U.S Junior Ryder Cup team earning her a trip to Spain and would go on to meddle at the AJGA Ping Phoenix Junior championship.
She was the NCAA's two-time women's long drive champion and has a career best drive of 325 yards.
5. Belen Mozo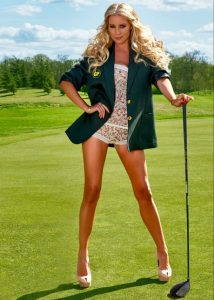 Ranked in fifth place is the Spanish professional golfer Belen Mozo who plays on the LPGA tour and the ladies European tour. Even in her amateur days she exhibited great prowess in the game, wherein she won the 2006 British ladies amateur golf championship then joined the University of California's Trojans golf team soon after.
After playing four years of collegiate golf, she turned professional, qualifying to join the LPGA tour as a rookie in the 2011 season. Unfortunately she had to leave the LPGA after suffering a hip injury
4. Lexi Thompson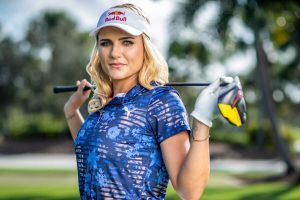 Lexi Thompson is probably one of the hottest while simultaneously also the biggest female earners in golf. Thompson plays on the LPGA tour and has broken several records while playing, including being the youngest golfer ever to qualify to play in the U.S women's open at the age of 12.
With two siblings also in the golf industry, it's no wonder talent at the sport runs in their blood. She was only 12 when she became the youngest player to qualify for the 2007 U.S Women's Open. The same year she won the Aldila Junior Classic to become the second youngest winner in American junior golf association.
As of June 2021, she led the U.S Women's Open going into the last round at the Olympic club in San Francisco California.
In the final round towards the end of her front nine, Thompson led by five strokes.
3. Natalie Gulbis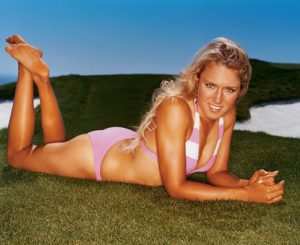 Now we're finally at the top three. Ranked at the third is Natalie Ann Gulbis who plays on the U.S -based LPGA tour. Born on January 7, 1983 in Sacramento California, Gulbis first started taking interest in the game at the age of four. At seven she already won her first tournament and at 10 reports she was breaking par.
When she was 14 she played her first LPGA Tour event in 1997 and by the time she was 16, she was the top player on the boys golf  team at Granite Bay High School.
She accepted a golf scholarship at the University of Arizona who were the 2000 National Champions at the time. But after playing for their team for one season, she left college and turned professional in July 2001 at age 18.
Her first professional win came at the July 2007 Evian Masters in France where she defeated Zhong Cheng in a play-off and announced she will retire after the 2020 LPGA tour season.
2. Muni Lily He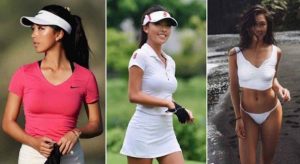 Second on the list is none other than the up and coming star Muni Lily He. The 22 year old Chinese professional golfer plays on the U.S-based LPGA tour and is an endorser for Nike and WeChat.
Born in Sichuan China on June 17, 1999, she was the daughter of a hotelier and restaurateur who introduced her to golf at a young age and by age five she was already playing competitively.
Her family relocated to Vancouver Canada before moving once again and settling in San Diego. This Chinese beauty won the 2015 Polo Junior Classic and the 2017 Minnesota Invitational as well as making the cut at the 2015 U.S Women's Open where she tied for 53rd place.
She attended the University of Southern California majoring in communications for a year before she turned into a professional in December 2017 and claimed her first Symetra tour win in July 2018 at the inaugural Prescott Charity Championship in Maineville Ohio.
A year later she won the eight-round LPGAQ series to secure her 2020 LPGA tour membership.
1. Sandra Gal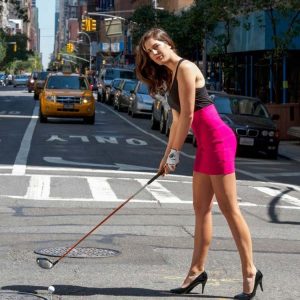 Topping the list of the hottest female golfers is none other than the German beauty Sandra gal. Currently Gal plays on the United States-based LPGA tour. Born on May 9, 1985 in Dusseldorf Germany, Gal began playing golf at age five during family vacations to golf resorts around Europe.
At 17 she already became a part of the German national team and at 18 Gal won the German National girls championship. While attending college at the University of Florida in Gainesville, Gal continued playing for the German national team.
She also competed for the Florida Gators women's golf team from 2005 to 2007 and won four events in NCAA competition, received first-team all-american honors in 2007 and was an NGCA Academic all-american from 2005 to 2008.
After earning full playing privileges on the LPGA in 2008, she turned professional soon after following the tournament. Gal also participated in the 2016 Summer Olympics in Rio de Janeiro Brazil where she finished in the position of t25
Special Mention- Paige Spiranac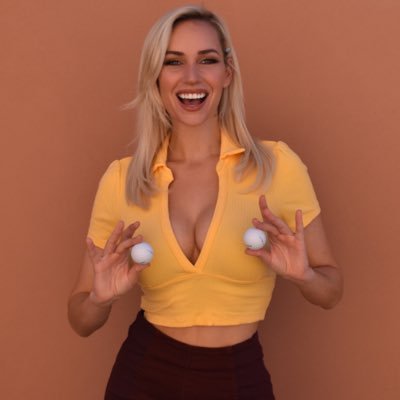 Another golf babe that deserves a spot on the list is Paige Renee Spiranac. An American social media personality and former professional golfer. Originally this blonde bombshell dreamed of becoming a gymnast but her dreams were put to a stop after suffering from a broken kneecap.
While she was also doing gymnastics, the young Spiranac suffered from bullying because of her hair condition to which she shifted and found comfort in golf.
Between Scottsdale Arizona and monument Colorado as a homeschooled student so that she would have time to train. In college, she played both at the university of Arizona and San Diego State University wherein she won the all-mountain west conference honors during the 2012-2013 and 2013-2014 seasons.
She became instrumental in leading the Aztecs to their first mountain west conference championship in 2015. Also in December 2015, Spiranac started playing as a professional golfer and joined the developmental cactus tour in May 2016, earning her first and only win in June when she defeated an amateur golfer at Scottsdale's Orange Tree country club.
A year later she retired from playing golf professionally in December 2016 after she failed to qualify for a card to play on the professional LPGA circuit in 2017.
Spirinak became an ambassador for Cybersmile, a non-profit which provides global support and educational programs to help combat cyber bullying.
So there you have it. These were the hottest female golfers ranked. Hopefully you enjoyed it. Cheers 🙂